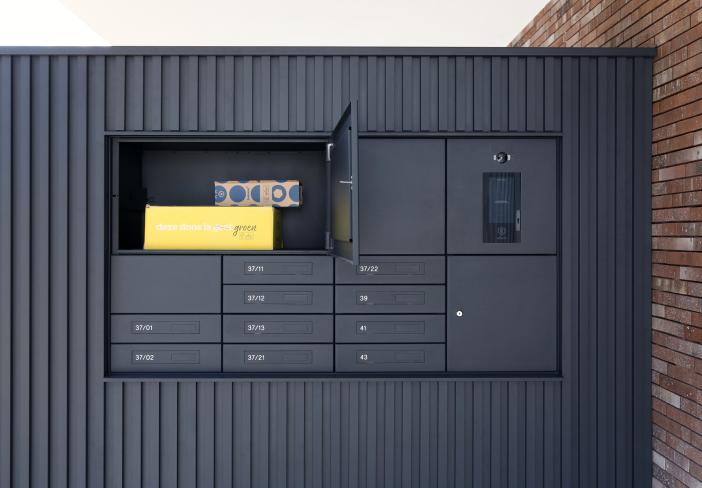 eSafe 'conquers' Belgian driveways with its range of designer parcel mailboxes.
Waiting on a parcel and notice that the postman doesn't ring. You stayed home, but you never saw or heard the postal carrier, but there is a notice in your mailbox: "You weren't home."
Sound familiar? This story was brought up in various media yesterday.
"It's a justified frustration," reports Jean-Paul Van Avermaet – bpost CEO, who will therefore take action within bpost.
However, the solution also lies outside bpost. eSafe, manufacturer of parcel mailboxes in Waregem, has experienced considerable growth over the past year and offers various solutions for worry-free & safe delivery at home or at work.
This strong growth is due to the growing online shopping trend, on the one hand. On the other hand, this is reinforced by the current COVID-19 pandemic, during which people are investing more in their own home & garden while also looking for solutions for contact-free deliveries.
Uniformity with façade elements
In addition to the practical side of receiving parcels safely, people also choose an eSafe parcel box because of its personalisation in any RAL colour. Here, one usually chooses the same RAL colour as the exterior joinery of the house, fence, or garage door.
Whereas the bluestone mailbox was number 1 for years, people are now opting for uniformity between the driveway and the façade elements. In addition, the timeless eSafes perfectly suit any style of home, from classic to modern.
eSafe Wall

Solution for apartments, multitenant houses, companies, and sellers
This year, we also put a lot of effort into marketing the solution for integration into the entrance hall of flat buildings, the eSafe Wall. Here, several functions are combined into one stylish whole: Intercom, doorbell, electrical mailboxes, and eSafe parcel boxes. In addition to delivery of parcels, it also allows you to exchange items with your co-residents or third parties. So you no longer have to leave your apartment key under the doormat.
Companies & sellers are actively looking for solutions to receive parcels & exchange items. The eSafe Wall can also be used in this case. This way, your employees can have their online orders delivered to the workplace without bothering the reception staff or logistics department. Collection by customers, delivery by suppliers, exchange of keys, etc.: with an eSafe Wall, all of this can now be arranged.