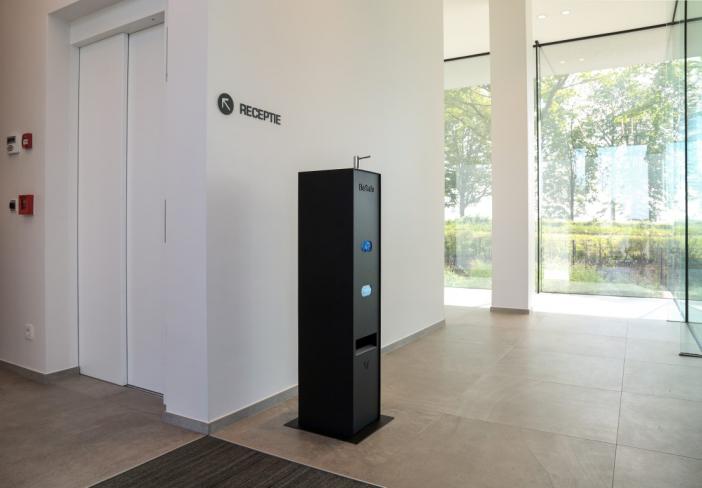 eSafe launches BeSafe - 4 in 1 hygienetotem
With the launch of BeSafe, eSafe - a manufacturer of parcel boxes and part of the Renson group - has developed a 'totem' in record time that includes an alcohol gel dispenser, mouth masks and gloves. BeSafe reacts quickly with a stylish piece of furniture for entrance halls in companies, hospitals, residential care centres, shops and showrooms, which will in any case be confronted with new safety regulations after the facilitation of the Corona measures.
We can already see that a 'new future' awaits us, as soon as normal life returns. And so we are anticipating it. Companies, hospitals, showrooms, shops, residential care centres and by extension all publicly accessible places will inevitably have to adhere to new guidelines. Hand hygiene, mouth masks and gloves may even become standard attributes (for a while) if they want to be able to receive unlimited customers and visitors again.
All these protective equipment may be available separately, but a stylish solution for grouping them in one 'piece of furniture' and making them available to everyone in an entrance hall of a public space has not yet been available. So now they are, and in a nice 'packaging' as well. After all, looks are everything!
This 'totem' BeSafe was developed in a record time of just 2 weeks, from initial sketch over prototype to market compliant product with alcohol gel dispenser, two separate slots for mouth masks and gloves and an integrated bin.
The BeSafe is manufactured in Belgium and is standard in MAT RAL 9005 txt, but is also available in any other RAL colour on request. The stock of alcohol gel, gloves and mouth masks can be refilled from the back. The door with lock prevents theft. The total weight of this piece of furniture - which can also be anchored if required - is 15 kg.
Leon Renson: "We need to learn lessons from this health crisis. If there is one thing that it has taught us so far, it is that we need to take new standards of hygiene into account".