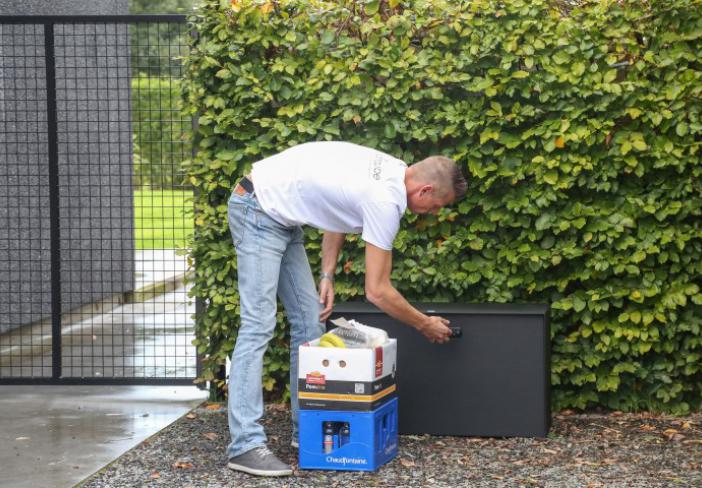 eSafe, guarantee for contactless delivery for online orders
The Corona virus strikes & is no longer something far away. Businesses & schools are closing, working from home is being promoted, queues in supermarkets - all consequences or temporary but necessary measures to contain the virus. Restaurants are transformed into food pick-up points & deliver to home themselves. The e-commerce world, which is otherwise dominated by orders for clothing, shoes & electronics, will in the coming weeks become an online supermarket where food & groceries can easily find their way to home delivery.
Currently there is no proof that COVID-19 can be transmitted through food or food packaging.  A larger potential problem is the transfer of the coronavirus from deliverer to customer or vice versa, through coughing, evaporated air particles or other direct contact. To prevent this, many food delivery services switch to contactless deliveries. This can be unguarded at the doorpost or driveway, but at the moment eSafe & its distributors see an increasing demand for parcel mailboxes to receive online orders safely & contactless 24/7 at home. Also for larger parcels such as food (Deliveroo, Hello Fresh, Uber Eats, ...) eSafe offers simple but efficient solutions.
The eSafes are user-friendly equipped with a drop flap system, combination lock or, in certain cases, are themselves connected to a videophone or smart doorbell system, so that unnecessary physical contact upon delivery is excluded. When you order, enter 'eSafe parcel mailbox' in the specification field for your favourite delivery location, so the courier can easily find his way to the delivery location.
In addition to integration into facades, gates & driveways of homes, eSafe also finds its way smoothly into projects of building promoters & companies who now choose the eSafe Wall parcel delivery option in their entrance hall or reception area as standard. After all, in addition to parcel delivery, picking up parcels or exchanging items is also convenient via the eSafe Wall.