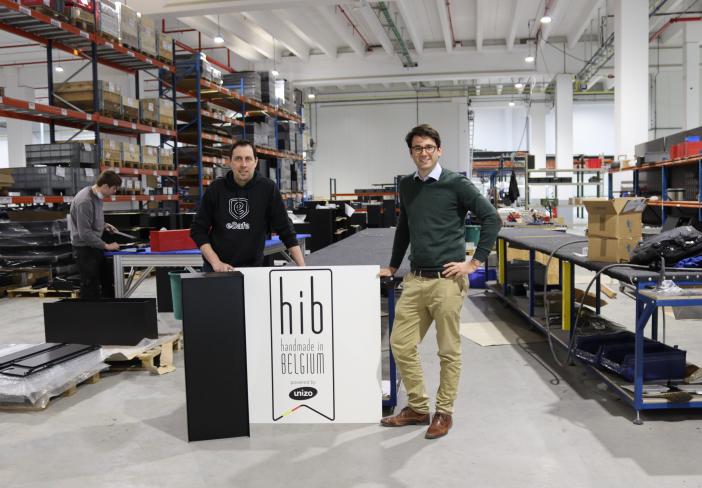 eSafe designer parcel mailboxes get 'Handmade In Belgium' label
Innovative parcel mailbox manufacturer eSafe receives the Handmade in Belgium label. This recognition confirms eSafe's correct focus on 100% Belgian quality and versatility since the brand's launch in 2016.

E-commerce is still experiencing strong growth. The corona virus has even contributed to this growth. To get all those ordered packages to their destination safely and without error as well, eSafe's parcel mailboxes are the right solution. At eSafe the focus is on the combination of design, functionality and above all quality. The new Handmade In Belgium label underlines that philosophy.
Guarantee for Belgian quality
eSafe is 100 percent Belgian. From the founder and the employees to the design, development and production. By keeping the workflow completely in its own hands, the company guarantees the highest quality and level of finishing at all times. Each product passes through experienced hands and passes strict quality controls.
This philosophy has lead to the award of the Handmade in Belgium label.  This recognition is awarded by Unizo to companies that realize customized work with conscious choices of materials and raw materials. "To qualify for a Handmade in Belgium label, a company must meet a whole list of conditions," says eSafe business manager Leon Renson. "We are proud of this recognition and see it as a confirmation that the path with focus on design, functionality and quality is the right one for eSafe.

Buy local
In these booming times of online shopping, eSafe also wants to be a local partner that makes sure packages get to their owners without a hitch. The combination of mailbox and parcel box fulfills all postal needs and also blends in seamlessly with the architecture of any home, apartment or commercial building. A practical solution with aesthetic added value, as you will. Henceforth with the HIB label as a quality guarantee.

About eSafe
Since 2016, eSafe has been designing and developing a wide range of parcel mailboxes. The startup now has 16 employees in production, R&D, sales and marketing. From Kruisem, the parcel mailboxes find their way to homes, apartments and businesses through a strong distribution network of physical stores, web shops & experienced installers.